Viva strike over
Service set to resume Saturday morning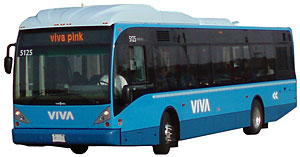 The two-week-old Viva strike is over and service is expected to be back to normal tomorrow morning.
The striking bus operators, represented by Amalgamated Transit Union (ATU) Local 113, accepted a three-year contract today with Veolia Transportation Inc., the private contractor that operates York Region's Viva service
About 160 Viva drivers walked off the job Sept. 25 after rejecting an earlier tentative agreement.
The deal accepted today is the same as that previously rejected. What changed, the union says, was a threat by Veolia that wage decreases were a possibility if the deal was not agreed to quickly.
"They have made their point and will now return to work," ATU Local 113 president Bob Kinnear said in a statement. "Unfortunately, the company's bully tactics are not going to help repair labour relations, which have been deteriorating for the last couple of years."
York Region Transit says full service will resume Saturday morning, but cautions some delays may occur.
Vaughan Today
Online: October 10, 2008 [link]