Viva strike set for 4 a.m. Thursday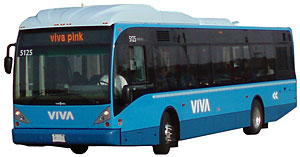 Viva bus service will grind to a halt at 4 a.m. Thursday morning when drivers will begin striking.
The 165 bus operators — represented by the Amalgamated Transit Union Local 113 — voted 61 percent against a tentative settlement reached Sunday in today's ratification vote.
"We are a democratic union and our members have spoken," Local 113 president Bob Kinnear said in a statement. "Veolia management knew that the strike would begin tomorrow if their offer was turned down and I have informed them of the results of the vote."
The drivers are employees of Veolia Transportation Inc., the private contractor that operates York Region's Viva service. They and Veolia have been at odds over inconsistent shift assignments, wages and the treatment of sick workers.
No further talks have been scheduled.
Vaughan Today
Online: September 24, 2008 [link]