Grow-op busts net over $2 million in pot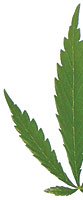 Drugs and vice enforcement officers have charged a Vaughan man after uncovering two substantial marijuana grow-ops in York Region.
A police investigation led to a search warrant being executed on a Colesbrook Rd. home on July 22. Inside, officers found 1,280 marijuana plants worth an estimated street value of almost $1.3 million.
It was during a routine air patrol that police initially discovered the grow-op. During a flight on July 7, an officer in Air2, the region's police helicopter, noticed an unusual heat source radiating from a Richmond Hill residential area.
"Well, in July you really shouldn't have a heat source coming off a house," Constable Marina Orlovski said Monday. "If anything, we're cooling our houses down with air conditioning or we've got our windows open.
"So for there to be a significant heat source coming off of a residential area, that's going to give them a little bit of an idea that there might be a grow in that home."
The first bust led officers to a second house on Henderson Ave. in Markham, where they seized 262 grams of harvested marijuana and 744 plants worth $744,000.
"We're looking at pretty much $2 million just within two residences," Orlovski said. "They're pretty big."
Kim Nguyen, 33, of Vaughan, and Thanh La, 24, of Hamilton, have been charged with production of a controlled substance, possession for the purpose of trafficking and theft of hydro.
The two were set to appear before the Ontario Court of Justice in Newmarket July 24.
Three others were arrested July 21 in connection with the discovery of another grow-op in Markham.
Led by the scent of marijuana, police determined an industrial unit on Telson Rd. was being used to grow the plant.
"They use a lot of vents and a lot of fans to get the smell out of the industrial unit," Orlovski said. "The officers were actually able to go up on the roof and … they could smell the aroma of the growing marijuana coming through the vents."
Officers arrested one suspect as he left the unit. Two others fled in their vehicle and a short chase ensued, ending when the suspect vehicle hit a tree.
No one was hurt.
Inside the unit, police found 744 plants.
"If you just think about it in the mind of the criminal that's doing this, the mind of the person who's growing this, what better place to do that?" Orlovski said of the allure of industrial zones.
"You're in an area that's probably not well travelled, your neighbours aren't really going to notice unless they can smell the smell, which is basically what we did, and it's really going to be a large area that they can adapt to growing without really causing a lot of attention."
Charged with production of a controlled substance and possession for the purpose of trafficking are Si Quan Wu, 31, of Scarborough, Chack Nam Tse, 27, of Scarborough, and Zhuoliang Huo Xie, 35, of Toronto.
Tse was also charged with flight from police and dangerous operation of a motor vehicle.
The three are set to appear before the Ontario Court of Justice in Newmarket August 15.
Vaughan Today
Online: August 2, 2008 [link]