Welcome funding from feds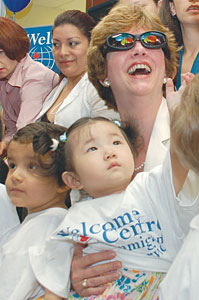 Eduardo Ojeda and his family immigrated to Canada from Chile on Dec. 13, smack in the middle of one of the most ferocious winters in recent memory.
It was just the first test he would face as a newcomer to Vaughan.
For help with the challenges of settling in — improving his English skills and finding a job — he was lucky to have found Welcome Centre Immigrant Services, he says.
"When things started to feel really difficult and when we needed some guidance badly, help came to us," Ojeda told a gathering of dignitaries and well-wishers at the Welcome Centre's first birthday party last Friday. "While I was reading the newspaper one Sunday night, I found an advertisement of this Welcome Centre just a few blocks from where we are living.
"The next day we came and things became better."
Federal Citizenship and Immigration Minister Diane Finley, present a year ago at the Centre's opening, was back to celebrate the one-year anniversary and announce $10.4 million in funding for seven York Region settlement and integration agencies.
"I just love birthday parties," Finley told the delighted crowd. "This centre truly is a place that welcomes newcomers to our great country and makes them feel at home here in York Region.
"The $10.4 million that I'm announcing today is not just an investment in programs and services. It's an investment in people."
Since opening, the Welcome Centre at 9100 Jane St. has helped 6,000 newcomers like Ojeda with an array of settlement services including English language training, and job search and employment related services.
The new funding — being shared by COSTI Immigrant Services, the Centre for Information and Community Services of Ontario, Jewish Immigrant Aid Services, Job Skills, the Cross-Cultural Community Services Association, Catholic Community Services of York Region (CCSYR), and the York Region Education/Industry Foundation and Career Centre — is expected to help 9,700 newcomers over two years.
"The announcement is a big thing," said Stephen Lam, director of immigrant services and community programs for CCSYR. "It shows the federal government is recognizing the needs of York Region."
According to recent Statistics Canada figures, more than 11,000 immigrants — almost one in five new Vaughanians — chose to call Vaughan home from 2001 to 2006.
"York Region, through its Welcome Centre, has demonstrated real leadership in welcoming newcomers through the services that they offer," Finley told reporters after the funding announcement. "We see this as a potential model to be used across the country."
Through the Welcome Centre, Ojeda was able to find a job in his field of expertise. A pharmacist by training, he is currently preparing for the College of Pharmacists exam.
And he's not the only Ojeda making use of the Centre's services.
"While my daughter Gabriela is at school, my wife Anita is attending LINC (Language Instruction for Newcomers to Canada) classes in this Centre, he said. "(And) my little boy Renato is in the child-minding room just across the hall."
Vaughan Today
Online: June 12, 2008 [link]